Posted By RichC on February 14, 2017
A couple gifts I gave this past Christmas were magnetic Nato Smart Mounts for holding smartphones or even tablets in a car. After buying a first one for our Honda Odyssey minivan as a promo and liking it, I added several more to the next order as gifts.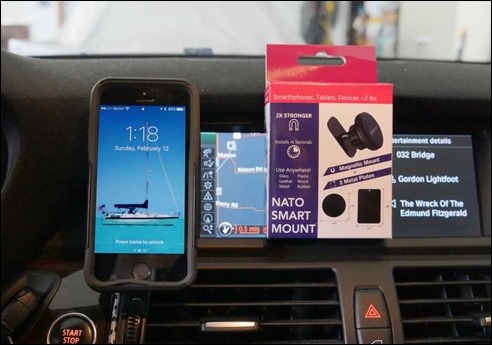 The final one I kept for my daily driver and I'm finally getting around to the idea of giving up the windshield suction cup mount for my iPhone and added one for myself in the BMW X5 35d. I held off only because there wasn't a good place to mount it on the left side, a place I've always had my phone, and decided I could adapt to it being on the right next to the nav screen. So far it looks like it may be the perfect location (not blocking anything) and the new Lightning cable "wedges" perfectly without stick'em between dash panels for charging when needed (longer drives). Unlike the Mercedes 300D Turbodiesel, I don't have a bluetooth media adapter installed yet, so if I still need content from the iPhone thru the car radio, a 3.5mm audio plug cable must be used — no biggie as I pay for SiriusXM in the BMW anyway.