Posted By RichC on May 4, 2017
The contractor that dented our Samsung refrigerator ask me to get a replacement freezer door so I called J & J International  at 800-627-4368 and had to log a case #149782 and give them our model and serial number before they could research and price the part. Hopefully if I order it they will continue to honor my reimbursement?
Perhaps I'll hold back the amount on my final payment as they are closing in on finishing up. Today they are grouting the backsplash subway tile, adding the final trim, staining the floors, touching up paint and installing the cooktop. We are nearly done after being under kitchen construction for 2 months.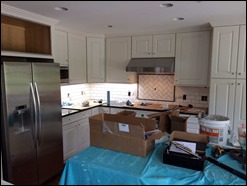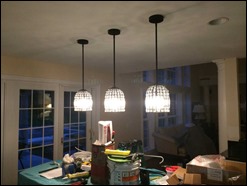 Backsplash tile going in and the hanging of our crystal "birdcage" lights (don't call them that around Brenda or I'll have to replace them!!!)