Posted By RichC on September 3, 2017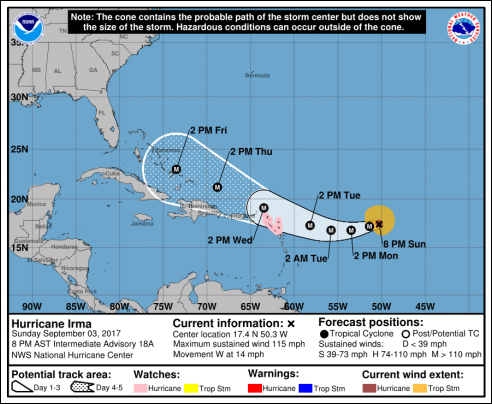 We're tracking another hurricane – Hurricane Irma – as it continues to move toward the Caribbean. The islands likely to receive the most wind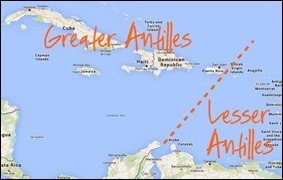 and rain are the Leeward Islands. If you are looking for a little  geography lesson, the Caribbean Islands are split into two groups – Greater Antilles and Lesser Antilles. The southeastern most are known as the Caribbees and are split again into three groups: the Windward Islands, the Leeward Islands and those further west as the Leeward Antilles When all the above are combined with the Lucayan Archipelago (Bahamas) the whole bunch are known as the West Indies.
As for the current projection and news …
By Sunday morning, Irma had strengthened to a Category 3 hurricane, with winds nearing 115 mph (185 kmh), the National Hurricane Center said.

On Sunday afternoon, Irma's center was about 790 miles east of the Leeward Islands, a group of islands in the West Indies that start east of Puerto Rico. Tropical-storm-force winds from Irma would most likely begin in the Leeward Islands on Tuesday night, and the storm is expected to be near the northern Leeward Islands by late Tuesday.

Hurricane watches have been issued for the islands of Antigua, Barbuda, Anguilla, Montserrat, St. Kitts, and Nevis. Additional hurricane or tropical storm watches may come as soon as Monday for the British and US Virgin Islands and Puerto Rico on Monday.