Posted By RichC on July 30, 2019
The summer of 2019 around our house has meant more repairs and maintenance updates than usual. This means weekends have been busy with house projects and in also finding and hiring help to complete the updates that are too overwhelming for this one "aging" guy to handle on his own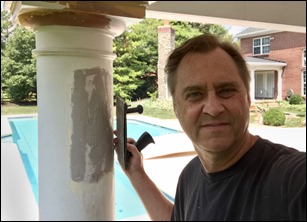 (although my 60th birthday celebrations 1 and 2 have been great!).
In the spring of this year, a windstorm tossed the Trinka into the column on the end of our poolhouse putting a hole and crack in the fiberglass pillar. In contemplating a "fix," I decided to take care of the structural damage using "boatbuilding" fiberglass and West System epoxy. Having just installed new gutters and since we are close to painting all of the house trim, I'm in more of a hurry to scrap and sand all the flaking paint off the unfortunately "unprimed" plastic column tops and finish the cosmetic repairs. Just as with using a boatbuilding techniques, I've decided to tap into my automotive bodywork experience and finish off the damaged column so it can be painted.
One never knows what life-skills can be repurposed and will come in handy?