Posted By RichC on December 14, 2017
Wow … is this really the 35th Christmas? With boxes all over the basement in search for Brenda's "special ornaments," I ran across the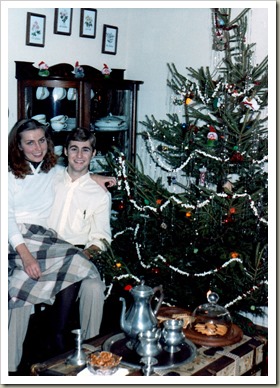 old photo albums of our first year of marriage and our first Christmas. We both remember it fondly since it was a relatively minimalist Christmas. The tree came from Brenda's dad's property from his hundreds if not thousands of planted pine seedlings in Jamestown, NY (as did most of our trees for the 13 years we lived in Aurora and in Hudson, Ohio). The trees were always untrimmed and a bit Charlie Brown looking, but the price was right and enjoyment in traveling to and from New York with a tree on the roof immeasurable.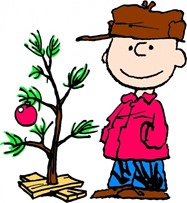 This first tree also had minimal decorations since we only had a couple hand-me-downs and was decorated with the help of my college roommate Jerry and his soon to be wife Pam, who by the way was Brenda's roommate. Our entertainment in getting together was to "force them" into helping us string popcorn for our first Christmas Tree. We had a good time with great friends – I could not have had a better college roommate for my four years at Ohio Northern University. Some day I'm going to have to tell him just how much I appreciated his friendship, although we haven't see them in years since they live in Idaho.
When looking at the photos and the one of my "young" mom and dad, I couldn't help but think about them. They loved seeing Brenda and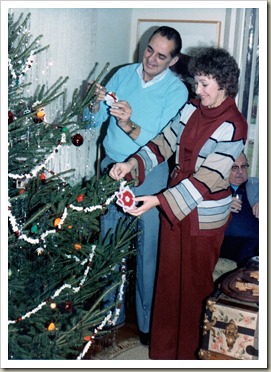 I "do our best" to entertain in our little red brick farmhouse. They were up to see our tree before Christmas that first year and we invited my great Aunt Nettie and uncle Ray (behind my mom in the photo) from Cuyahoga Falls over as well. I'm so glad we did that as the years pass so quickly.
Thinking about that little house and the many upgrade we did in the five years we own this little two bedroom house. From handyman remodeling, a large pressure treated deck – firepit area and built in book case … to the one-lung well pump with so much iron in the water that it turned Brenda's hair red. I can even remember the questionable oil fired furnace that we eventually pinched together $700 when replacing with natural gas … but not before adding a homemade/welded water tank woodstove and fireplace to the existing one. I really enjoyed working or  sitting down in the  basement by the fireplace … long before the now popular "man cave."
So as we close in on Christmas 2017, it is enjoyable to remember this 1982 ThrowBack Thursday Christmas from 35 years ago and include a couple photos. What a great life!