Posted By RichC on April 3, 2018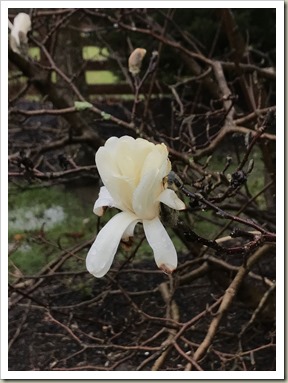 The other day I mentioned "selective focus" as a photography technique to my son … so I took advantage of the low light and ugly rainy weather to use the "longer x2 lens"on the iPhone7plus to hide the ugliness. The telephoto lens on any camera, especially in closer up photography), is that it is easy to use selective focus (blurring areas other than the subject). The low light also requires a wider/open aperture (smaller f-stop) and tightens the focal range even more, especially with the automatic exposure features of a smartphone.
The subject in this photo (click photo for full size) was Brenda's 2008 Mother's Day gift, a White Star Magnolia, which blooms each year without much greenery fairly early in the spring, some years earlier than others!
As for a more photogenic subject, my daughter Katelyn included a recent Annalyn "smile" for us … after her 1-year check up. She could not be parented more perfectly, although what else would one expect from Drew and "pediatrician" Katelyn! HA!