Posted By RichC on September 18, 2018
In recent years, I've added a few corded Ridgid tools to my workshop or traveling trunk. I've owned a favorite reciprocating saw for about 10 years now and still find it my absolute favorite (also have an old Makita). Because I'm so fond of it, I've added an orbital sander which gets use very often and is already starting to show its age (close to 10 years old too). Once again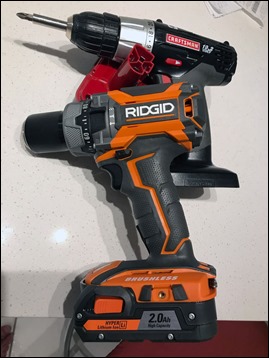 it is the one I grab or take with me over all the other older sanders that I have.
Early this year when working on the kitchen remodel I also upgraded my old Craftsman "cheapy" circular saw; it was one that my mom and dad gave me as a teenager … yes it is that old and still sparks and whirls. Again based on my 2 previous corded Ridgid tools, their version of the classic "Skilsaw" was my first pick for ripping the long trim panels. It was only after handling it that I remembered how good it feels to use a well balance, solid circular saw (like the Milwaukee I used when working for a builder in college).
As for battery powered tools, I've never been much of an advocate besides having a drill, but times are changing. I've owned several drills through the years, most have been Sears Craftsman … with the occasional oddball that left me sorely disappointed (my first lithium 12v tool, but so disappointed). Eventually I replaced my old Craftsman 19.2 Nicad with the 19.2 Lithium and have been very pleased with it.
BUT … I'm sizing up possibly the tools I buy now should be ones last me the rest of my life, so I have picked the brushless Ridgid GEN5x line of tools and 18 volt battery system after suggesting it was a good value for Katelyn to buy Drew for Father's Day this year … they then went on to buy me a new drill for Father's Day too. It is a great drill although heavier than I'm use too. My recommendation was mostly due to my experience with the corded tools but also because it is handled at Home Depot and is covered by a Lifetime warranty when you "registered tool and battery that comes with the kit." Yes, battery … the bane of all the battery powered tools I have owned.
So, in keeping with my upgrade process, I decided to continue to stick with Ridgid Power Tools … and so far have not been disappointed (FYI: Ridgid based out of Elyria, Ohio and is owned by Emerson Electric).