Posted By RichC on February 11, 2019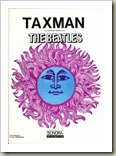 There is probably a name for them, although I'm not sure what it is … but my nephew Aaron always seemed to me to be that guy who missed his era, particularly in music taste?
Last week he commented that my "taxing wireless plans" blog post deserved Taxman by the Beatles to be included on Music Monday (well, I was half there, since it was posted it back "pre-Music Monday" in 2010).
| | |
| --- | --- |
| | Taxman – written by George Harrison |
It did make me smile though, as only he would be connecting 1960 or 70s music to one of my mundane posts. Although in a way, it is nice to know he keeps up with our family (and my) "goings-on" by checking my blog, as do a few other friends who comment from out of the blue – yes you know who you are? I remembered laughing last month when my daughter Katelyn mentioned she was talking to her cousins Justin and Aaron a Peek n Peak over Christmas; she said something about what I was doing and Justin seemed surprised. His brother Aaron chimed in, "don't you read uncle Rich's blog?" Too funny!
Anyway, I'll include something new for the blog from The Beatles in 1969 on this Music Monday since I just returned from a few days aboard Encore and enjoyed the warm sunshine each morning (a few previous songs are here and here).