Posted By RichC on February 24, 2019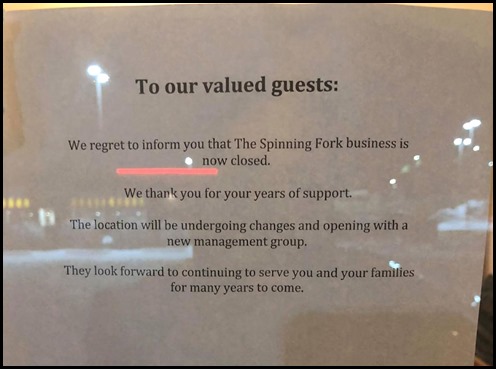 Brenda and I have been eating at The Spinning Fork Restaurant in Fairfield, Ohio since even before we moved to the Cincinnati area

– was our favorite restaurant. Our family grew up enjoying their delicious food and personal warmth, something that I think only exists at locally owned establishments. We are hoping new owners will and can duplicate … but without those that provided the great service and friendliness for decades, I'm not sure it will be possible EVEN if they inherit the same recipes.
Our memories run deep … from their original "basement" location and waitresses from the "old country" … who addressed my 5 year old son at the time as "Mr. Taylor"…  to the recent staff that always asked about our grown family. They knew our orders and idiosyncrasies from memory and always made us feel welcome no matter how busy they were … this place will be missed.
We are hoping to hear something soon … but after a disappointing visit (and zero information) from their sister restaurant in Middletown; I am doubtful the friendliness and food can be duplicated.

Cincinnati Business Courier article