Posted By RichC on February 17, 2019
Like clockwork, it was time to either renew or cancel SiriusXM (again). I refuse to pay the month to month rate with them or the very few newspaper/magazine subscriptions I still use that does the same thing.

Thankfully I marked my calendar with a notification as to the last day to cancel service … otherwise the subscription contract automatically renews at the higher rate (something I know from experience) … and then as expected they extended a better offer so as not to lose a customer. It would be nice if Amazon Prime and Netflix will do the same, or for that matter, Internet/Cable TV providers!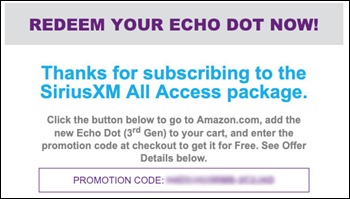 Now, I do use the service in my car and more than ever on the iPhone with my Aftershokz headphones… and most recently on the Amazon Echo devices … to stream the FoxBusiness channel (as well as occasional music channels).  As expected, SiriusXM offered an extension of their current promo, but this time it came with an unexpected surprise … a free Amazon Echo 3rd Gen device ($49.99), plus shipping and handling as indicated by the promo disclosure. To make this even a bigger surprise, after plugging in the promotional code to my Prime account, the shipping was $0.00. Such a deal … if you need another Echo device (Hm, maybe I'll take it to Florida)?