Posted By RichC on June 18, 2019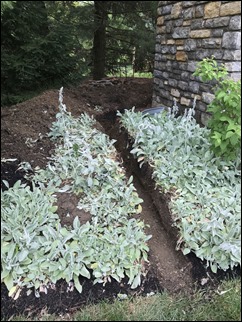 With steady rains (and downpour storms) over the past week, the ground was soft enough for even this 60 year old guy to trench. I've been wanting to work on the "sump pump to pool" bypass ever since testing it with a temporary pipe to 2" roll up hose a few years ago. The water is so unbelievably clear and clean and our sump pump runs like clockwork almost all year around that is a crime not to use it.
My plan is … and has been … to trench a PVC bypass pipe underground about 40 feet to the edge of the landscaping and lawn … then temporarily add a section of 2" firehose that I can disconnect for most of the year. During the dry months of July and August, when evaporation requires adding water to the pool, using what leeches under the foundation and basement only makes sense. Besides trying to figure out how to get the water to properly flow using gravity (not much pitch), I need to rework the messy and leaking sump pump to downspout drain anyway (photo below). Hopefully I'll remember to winterize this pipe when closing the pool each season and maybe even consider adding an actual under ground line to one of the skimmers or corner of the pool when we finally splurge for pool refinishing … or attempt to do it myself???
The gate/fence repairs continue (below) … as they will for the rest of my life!