Posted By RichC on December 20, 2019
As the year and decade wind down, it is the time of year investors and financially prudent planners take note of their savings and retirement portfolios. Barron's surveyed strategists who continue to expect "more gains ahead for U.S. stocks" with the caveat, "barring a jarring election or a derailment in U.S. – China trade."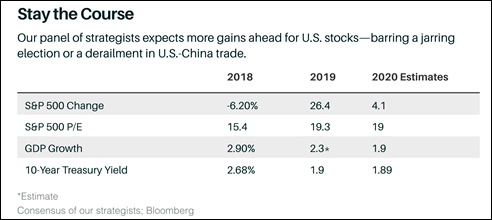 So far this year, the S&P 500 has climbed 26.4%, to 3168.57 at Thursday's close. Bond yields have slumped, as prices have surged: The 10-year Treasury's yield dropped to 1.90% from 2.68% at the start of 2019. U.S. assets have generally outperformed their overseas counterparts, thanks to a relatively stronger economy and bond yields that may be slim, but that are at least positive.

The Economy: Slowing but Growing

Our panel sees real U.S. gross domestic product growth slowing to an average of 1.9% in 2020, from its current estimate of 2.3% for this year. That compares with growth rates of 2.9% in 2018 and 2.4% in 2017, and it's still far from the recession that has been loudly and often predicted to have arrived by now.