Posted By RichC on November 7, 2020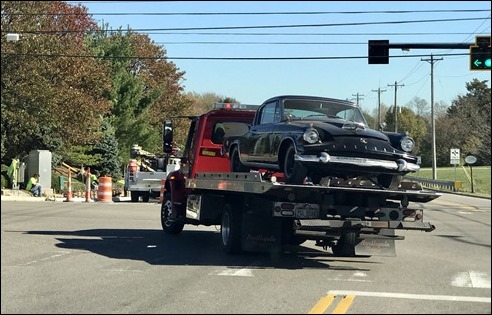 After a long time in a repair shop, I brought the 1958 Packard Hawk back from some transmission repair work. It came back very dusty, but I didn't notice any damage to the paint or body (yet). The entire process from initial quote to final bill and slowness was a bit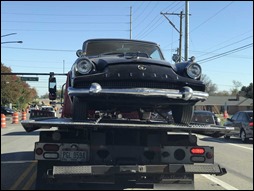 disconcerting.  It was not entirely the fault of Benhase considering I did have them do a once over of the cars mechanical condition … knowing I still had to work on the brakes.
The few repairs besides the initial work on the transmission (something I can't do) was disappointing. Their service rate $$$ and "hack fix" of the leaking heater core was disappointing.
Hopefully I'll find time and the budget to address the brakes in 2021 but for now it is back in my garage for the winter. 
Once it was back home in the garage with the transmission able to move freely from P,N,D,R (yes, that'e the order), I replaced the old 2010 battery that dad and I put in for to take it to his local car shows. It is hard to believe this is the first time I've started it since my dad passed away in 2015, but no driving until I address the brakes this winter — do I keep it stock or upgrade to disc brakes? So far so good with the idle … but it looks like the sparkplug wires need a little more TLC than a bit of electrical tape. #humor