Posted By RichC on November 8, 2020
The menu "navigational links" just under the header of My Desultory Blog are primarily there for my own short-cuts … and I haven't changed them for years.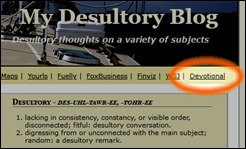 A few aren't really used much anymore, with improved browser bookmarks – one click bookmarks are just much more convenient.
This past week I made a change.
I added the syndicated Truth For Life / Alistair Begg daily Devotional link to my personal blog and am hoping it becomes

a daily habit. Perhaps the link might also encourage others to turn to the Bible … anyway, that is why it is there.
Besides the Daily Devotional inspired by C.H.Spurgeon, the Truth for Life website is an excellent source for Christian enrichment. If you enjoy growing it your faith, check out their ministry, listen to the podcasts, read a series of two, pick up a couple books and even watch a Parkside Church service or their excellent Christmas service.
Full disclosure: Parkside was our home church when Brenda and I started our family in Aurora and Hudson, Ohio (even before its naming when we met in Solon High School) . The ministry outreach with Alistair Begg and Truth for Life has continued to be important to our family even though we are no longer in NE Ohio.
Oh … since I downloaded an excellent Introduction to Mark 13 by Alistair Begg, I'll include it below as a taste of what his teaching is like (this podcast episode was on my daughter's recommendation – "God's word is infallable, but no interpreter is an infallible interpreter of God's word.").