Posted By RichC on December 21, 2020
For the baby boomer generation, the mellow voices of Karen and Richard Carpenter were a perfect match for classic Christmas holiday music.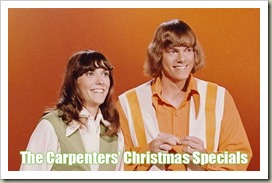 I recall watching several television specials over the years with them (although suspect my parents were the ones who selected the shows?). No doubt, MomC and DadC would have preferred Bing Crosby or others from the 1950s, but I sensed they "thought" watching the Carpenters might be a way to include their teenage boys?

My brother and I graciously tolerated those specials and were just thankful we didn't have to watch Lawrence Welk. With all the gadgets, viewing devices, streaming options and entertainment choices today, I'm not sure younger people realized how limited entertainment choices were "back in the day?" Now that my parents are gone, and our kids are grown, I listen to holiday music by the Carpenters with little more fondness. Here's a sampling for Music Monday.
| | |
| --- | --- |
| | Carpenters | Do You Hear What I Hear |
| | |
| --- | --- |
| | Carpenters | Christmas Medley |