Posted By RichC on June 1, 2021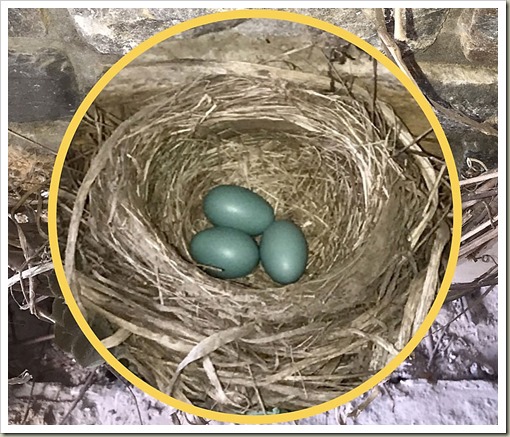 The robin eggs in the back porch (earlier in May above) wreath Brenda made from her grandmother's grapevines years ago, have hatched Below was day one (left) and day two (right) … as Brenda commented … "you should wait until they're a bit cuter."
The weather was "so-so" this past Memorial Day weekend, but since it was Brenda's holiday to work, I figured it was appropriate to do a few home chores (although really it was too wet to mow).
The components for the office inverter mini-split AC/Heating unit came in came in the other day, so I started to prep the office by cleaning out junk (check out the old Palm Treo I found in one of my old computer bags- below), then measuring and marking for holes on the wall and climbing the trusses in the attic in order to route the high and low pressure copper, drain (with proper pitch) and electrical – I think I have it figured out, but it is more work than I thought.
When the rain stopped, and in-between sweeping out the pool, I disconnected and removed the old basement AC unit to make room for the Pioneer unit and wall mount. The circuit is already 220VAC so I'll used the same electrical box for the new 22.8 SEER high efficiency AC; I'm anxious to see if it makes a difference in my comfort now that I'm traveling less for work and in our electric bill IF I can keep the main whole-house AC system thermostat a little higher?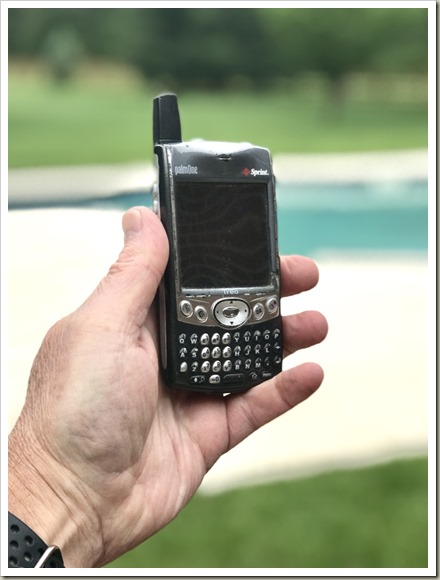 Old Palm Treo found in the pocket of a computer case.