Posted By RichC on August 24, 2021
Our driveway project has been nothing but one problem after another. "Grr" … and my granddaughter Annalyn's buddy Daniel the Tiger would say (ah, memories)!
If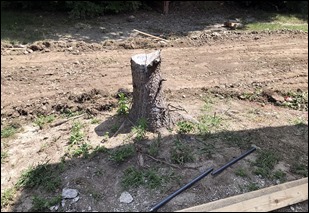 replacing an existing concrete driveway isn't challenging enough on the financial budget, running into cost overruns once the demolition is done kind makes one sick the stomach. The crews who were suppose to dig out the stumps refused to tear out the "relatively small" (8-10 inch) Norway Spruce we planted at the corner of our detached garage … because it was too close to the main power lines that run from the transformer. To make matters worse, for some reason the concrete company could not fine a company to grind it out either so the driveway sits until "the homeowner," me, could find a way to takes care of the problem.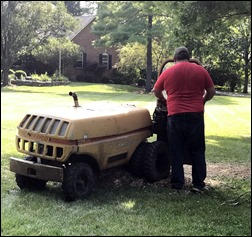 So I spent an afternoon on the phone frantically calling around to find someone who could give me rushed service and thankfully ended up with "Big Rob." He is a good ol' boy (and big) who operates old school out of his truck and trailer and had to drive from an hour away (he was recommended by a tree company that was book 3 weeks out). He was friendly as could be so I called my neighbor thinking since I've already paid the premium ($75 extra) to get same day service, it might be helpful to both my neighbor and "Big Rob."
I've used stump grinders before both here and when we lived in Hudson, but nothing like this older Rayco RG50 which made short work out of both the stump and well down into the roots. I'm sure my kids would razz me due to making small-talk, but Rob filled me in on the several stump grinders he owns and why this one is his favorite (although we needed to use my jumper cables to get it started). This diesel grinder costs him $15K used a decade ago and he replaced the engine for another $3000, but it chews up stumps like butter … nothing like the wimpy ones I've rented in the past. The stump, and chunk sticking out of the ground in the photo, took him less than 15 minutes and so he chipped out a second one for me since I connected him next door for few of my neighbors' dollars.