Posted By RichC on March 12, 2019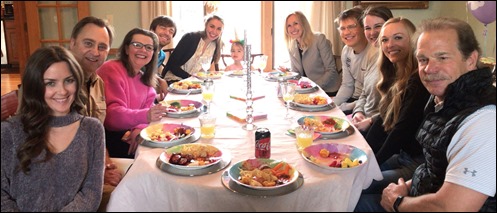 We celebrated our granddaughter Annalyn's second birthday with the family at Katelyn and Drew's house in Perrysburg this past weekend.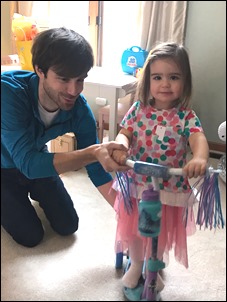 Like last year, her birthday made a great opportunity to get both the Corbett and Oostra families together at the same time … Katelyn could not have married into a better family as they are ALL wonderful (we are also fortunate to see Drew's brothers and parents individually during the year).
Now that Annalyn is TWO … she has a cute personality and is so much fun to be around. She loves to talk and play, especially with me, and interacts well with the whole family. Both Katelyn and Drew are great parents and juggle the challenge of giving her attention that will make a big difference in Annalyn's future be it with socializing and manners or her school and education (with a lot of help from Drew's mom Barb). When I spend time with Annalyn, it is uncanny how much her personality like Katelyn, especially with her desire to learn.
As for her birthday … Katelyn themed it after what she dreams about and one of first things I remember her saying. Drew would ask, "Annalyn: What did you dream about last night? Annalyn answers: UNICORNS!" Very cute … and so a perfect theme. Along with dressing up the "silly unicorn" named "Sparkles" for the top of OmaC's cupcake holder, she also enjoys talking about and watching Daniel the Tiger (it is one of the few kid TV shows she gets watch – good parents limit screen time … and having a pediatrician for a mom make that doubly important!)
As for my Zoo/Circus trailer project, it was very much loved by Annalyn. I'm not sure how much longer before she moves to dolls and electronic gadgets … although know "gadgets" would be a hit if permitted!
As I did last year, I shot some video and a few photos (and included a couple from Taylor and Drew) and put them into a short video in order to archive our family event.