Posted By RichC on December 4, 2022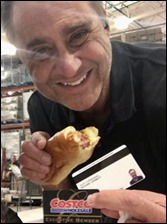 With a new Costco store opening close to home in Liberty Township, Ohio (and one in Delray or actually in Boca Raton, FL), Brenda and I have finally decided to join. My buddy Jeff has been a Costco shopper for eons … and Katelyn and Drew are always telling us about their weekend trips to the warehouse club … so after shopping with them over Thanksgiving week in Florida, we decided to make it a "dinner date destination" and joined (it is hard to be an impressive hot dog and drink for $1.50 and giant slice of pizza for $2.00).
Even though we dislike shopping and no long "feed a family," we kind of enjoyed the experience and will give it a least a one year try. I'm only hoping to find a time that it is a bit less crowded because so far it always seems to be busy.

EDIT 12/5/2022: Also … it is finance.yahoo.com's pick for company of the year.
How we chose Costco as Yahoo Finance's Company of the Year — Dec 5, 2022

To determine our Company of the Year, Yahoo Finance gauges financial performance, leadership chops, societal impact and buzzy factors such as consumer appeal. So why Costco (COST) in 2022?

If profitability and stock-price appreciation were the only factors, we might have chosen an energy company. When we began our selection process in late October, oil and gas firms dominated the financial metrics. Consol Energy, for one, was up 183% year-to-date. Occidental Petroleum: Up 146%. Hess: Up 83%. Exxon Mobil: Up 73%. Nearly 80% of the companies in the S&P 1500 stock index, by contrast, were down for the year.

…

We also include qualitative factors in our best-company pick, such as employee morale and good corporate citizenship. In a retail sector characterized by high turnover and middling pay, Costco earns high marks for its treatment of employees, including starting pay of $17 per hour, health benefits, plus bonuses and perks for working weekends. Workplace analysts credit Costco with setting labor standards competitors such as Walmart, Target and Amazon are slowly adopting. The company also has a reputation for family work culture even though it's the 13th biggest public company in the nation, ranked by revenue.

"Costco is maybe the most fun, boring company there is," one Yahoo Finance staffer wrote in our best-company Slack channel. "Costco is the ultimate recession play," wrote another, "offering value at a time when consumers are stretched."