Posted By RichC on January 23, 2023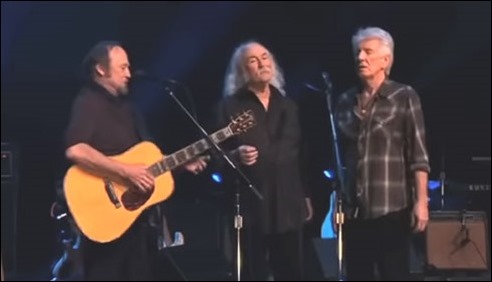 Steven Stills, David Crosby and Graham Nash in concert in 2012
A depressing Music Monday today as music lovers remembered and reflected on the January 18, 2023 passing of the talented singer, guitarist and songwriter David Crosby. He impacted literally millions with is wonderful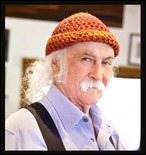 harmonies from the day he joined the Byrds in 1964 to the forming of Crosby, Stills and Nash (CSN) in 1968 and through the following decades.
Many of us were a bit too young in those early years, but definitely knew of and loved their music in the 1970s and later. Having Neil Young join the band (CSNY) and performing at Woodstock in the summer of 1969 cemented his legacy. A top ten list of folk-rock singers without David Crosby is rare as he collaborated with dozens of artists … including Joni Mitchell, James Taylor, Pink Floyd's David Gilmour, Phil Collins, Elton John and Carole King.
He also had six solo albums and "formed a jazz-influenced trio with his son James Raymond and guitarist Jeff Pevar" (CPR), although to my shame, did not know about.
I may be a generation behind David Crosby and his peers, but I definitely loved his music and am thankful for his legacy of music for us to enjoy. Above is a live 1982 performance of "Wasted On The Way" (my post from 2016) and for those wanted a little more, check out this YouTube video from 2012 singing CSN's "Suite: Judy Blue Eyes."