Posted By RichC on January 24, 2023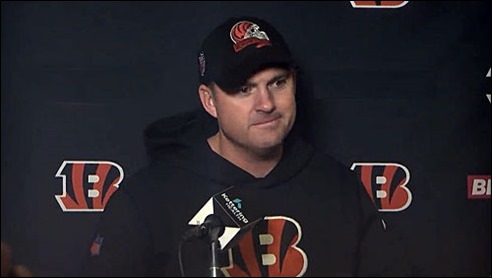 Just as the Cincinnati Bengals did last year in January 2022, they will be facing the Kansas City Chiefs again this year in the AFC Championship game after defeating the Bills in Buffalo on Sunday … impressively I might add.  Even though I was proudly wearing my Joe Burrows #9 jersey, the credit goes to every member of the Bengals. From coaching (Head Coach Zac Taylor above) to every player, they performed like a machine. Let's just hope the Bengals can do the same as they have dial up a win against KC the last 3 times the teams have gone head to head.

One advantage the Bengals have over the Chiefs this year is that QB Patrick Mahomes suffered a "high ankle sprain" in the playoff game against the Jaguars … this could prevent him from scrambling and being so effective. 
The video no Chiefs fan wants to see. Patrick Mahomes is limping, but staying in the game for the moment. #ChiefsKingdom @KCTV5 pic.twitter.com/12hhWHSnXP

— Jared Koller (@JaredKCTV5) January 21, 2023