Posted By RichC on September 3, 2006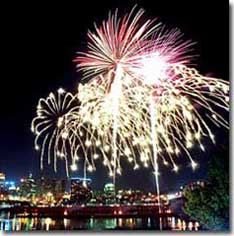 If you've ever been around Cincinnati, Ohio on Labor Day weekend you most likely have seen (or at least heard of) the annual fireworks display. This year was the 30th year and the display was better than ever. It was 45 minutes of mind-boggling color, smoke and noise. In Cincinnati, you know what fireworks are all about if you've seen the spectacular WEBN/Toyota sponsored display.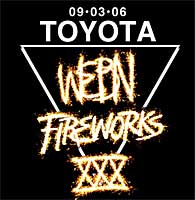 Local radio station, WEBN, and Toyota sponsor the annual Riverfest fireworks show that provides the over half million people from Ohio and Kentucky the biggest pyrotechnic display I've ever seen. I recall our first display ten years ago when my wife commented that "this must be what fireworks are like in heaven." Besides the 500,000+ who line up on both sides of the river, countless others watch the WKRC Channel 12 simulcast set to music. This year it was a wide mix by WEBN's Joel Moss which included some original material by Booty Collins and well as music from AC/DC to Frank Sinatra to Jimmy Hendrix's "Purple Haze." It always is a spectacular show and this 2006 year was no exception. If you find yourself anywhere near Cincinnati on Labor Day, do yourself a favor and take in the fireworks.