Posted By RichC on September 3, 2006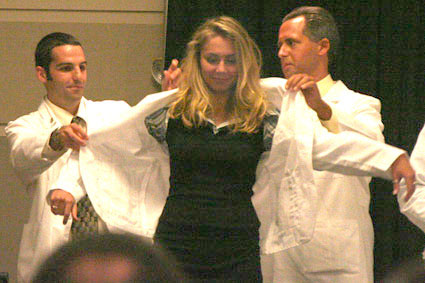 On August 30, 2006 the Northeastern Ohio Universities College of Medicine (NEOUCOM) held it annual White Coat Ceremony where several awards to teaching professionals and the induction of the 2010 graduating class was acknowledged. Margaret Nora, M.D., J.D., president and dean of NEOUCOM offered words of advice and congratulations to the 123 inductees to a full auditorium. First year medical students (M1's) are given their white coats by over 100 of the nations 145 medical schools and has been a honored tradition at NEOUCOM since 1995. As a proud father, my daughter (Katelyn – photo above) received her white coat on Wednesday night as well.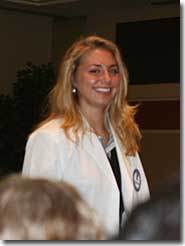 Since I keep this blog as a personal journal, it is only appropriate that I mention this milestone in my daughter's education. Katelyn has spent the last two years completing her Bachelor of Science degree at Kent State University graduating Summa Cum Laude only a few weeks ago. The high pressure program has added significant stress to the normal growing up and attending college, but offers appropriate students an accelerated path that will shorten the many years of school associated with becoming a doctor.
Besides the advantage of accelerating ones undergraduate degree for competent students who know they want to pursue medicine as a profession, there is also the reduced stress of 'knowing' which medical school one will get accepted into. (that's not to say that early acceptance into the NEOUCOM program is easy) I've known many pre-med graduates struggling to find a medical school that will accept them, even when they score well on the MCAT and have a sound undergraduate education. From the perspective of 'number of pre-med graduates wanting to attend Med School' to the 'number of slots available' … schools can be picky. The early acceptance program offered by some medical schools can take a bit of that pressure off.
From a parents and the dollar 'n' sense perspective, the advantage of reducing a 4-year undergraduate degree to two, reduces cost at a time where affording a college education is beyond the reach of many families. I've read about and seen too many weak students working through college and exiting with unmanageable debt … often at the sacrifice of their families. I also know too many students, whether it is due needing to grow up or a just a change of major, that requires a fifth year to complete their undergraduate education; for that I'm thankful that my daughter had a focus and goal early on in life and the ability to chip away toward that end. Sure there is second guessing that one is moving too fast and missing out on the 'costly recreation' that comes with a more relaxed approach toward a college education … but from the perspective of middle-age, being a bit more aggressive now will pay off since there is so much more school ahead.
Congratulations Katelyn! Can you tell I'm a proud dad? 🙂