Posted By RichC on December 26, 2006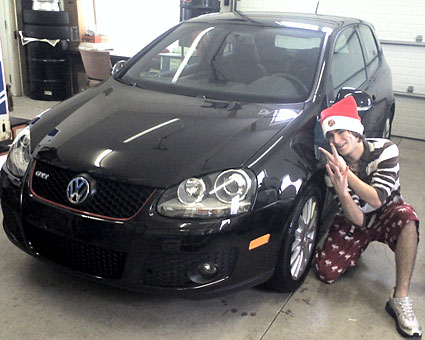 Christmas has been hectic as usual around our house. We've been entertaining and enjoying the festivities including time with our extended families. (which isn't going to end until after the New Year!) This year was special for my son as you might have noticed above; Santa brought him a 'car' … I'm not sure how it fit in the sleigh?
😀
Several years ago we surprised my daughter with a car as a Christmas present in a much different way, and in fairness, it was only right to do the same for my son. His expectation most likely was that he would inherit my VW Jetta TDI; he has been driving it for the past year. I've been slowing misleading him in this direction for the past couple years, sort of hoping that it might be the car he wanted anyway? In maintaining the excitement and surprise that we did for our daughter, I slipped the 2007 VW GTI in the garage at 2 AM on Christmas eve. As a present, I prepared a special license plate frame wrapped in a clothing box which I purposely typed few misleading (but not lying) words to denote that the frame was for the VW. (he was 'politely' excited even though he expected that my Jetta would eventually be his) As my wife walked out and positioned herself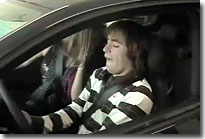 behind the new car with the video camera and I 'slyly' mentioned … "you'll have to check out the new MP3 player in the VW." Needless to say, he quickly ran out to check out the new 'car radio' — I think his heart nearly stopped as we watch his jaw hit the floor!
Christmas is a wonderful time to burn in family memories … even when kids are ready to leave the nest. Hopefully, we're doing the right thing in giving both our children cars and providing them an undergraduate college education? Only time will tell. I hope everyone's Christmas was merry.
EDIT 12/27/2006: For those who are interested and know us personally enough to care about the video, I've included it in the next post with a 'weak' password: What's the color of our house?