Posted By RichC on July 28, 2011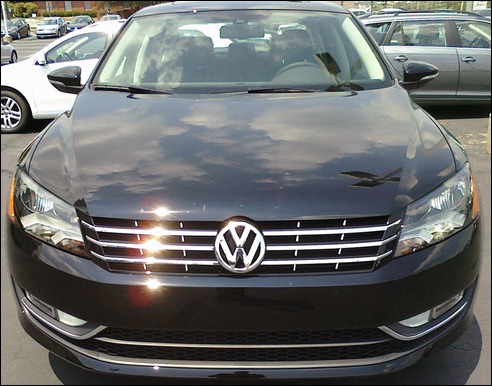 I had the chance to test drive the new 2012 Volkswagen Passat TDI diesel on Wednesday and was both surprised and impressed; it was not entirely what I expected. The SEL Premium package made this mid to large sized sedan seem more like the VW Phaeton than it did the previous Passat. Besides the larger size and substantial interior space, the cushier seats and new leather smell was simply luxurious. The premium package on this demo model even sported the remote start option (see video at end) along with a little square

of soft touch suede leather insert where your tooshie touches the seats. Nice.
Besides the luxury feel, the real reason I'd be interested in the new Passat is the 40+ mpg 2.0L turbocharged TDI engine and DSG near instant shift transmission. Although I'm partial to a 6-speed manual gearbox, there aren't many automatic shifters like the 6-speed dual clutch transmissions VW puts in several of their models. The combination of a high torque diesel and quick but smooth shifts of the DSL is terrific. You'd be hard pressed to know you were driving a "diesel" let along a 4-cylinder. My only complaint is the "tiny" lag when starting from a dead stop … which has me wondering what this combination would be like IF VW decides to add a small hybrid battery motor for idle and start-stop?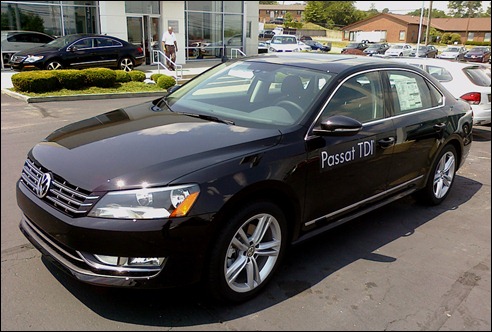 Behind the wheel the Passat felt much larger than any of the previous Volkswagens that I've owned or driven. It is definitely not a GTI or even a Jetta … more like my old Mercedes Benz 560 SEL. Right from the push button start up and finger tip power steering, the Passat felt much more like a domestic luxury car. Not that it was at all boaty, because it was far tighter in the corners than my dad's Buick. I suspect the fact that the suspension is new makes a difference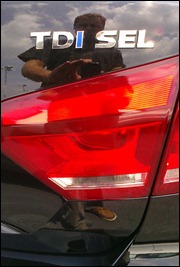 along with the 17" 18″ wheels and wide tires – it was obviously designed to corner rather than float and lean. This "softer ride" will appeal to a few of us middle age drivers who have shed the minivan and SUV, but appreciate a more comfortable ride. I'm not sure I can take 8 hours of bolstered seats and teeth rattling found in many of the sport sedans and hatchbacks. It's a tough call for those still wanting the traditional European VW firmness but appreciating the long haul comfort in a larger sedan.
Cargo and passenger room is not a problem in the new Passat. The trunk is large (nearly 16 cu ft) and the rear seat leg and headroom is spacious. When flipping the rear seats down, the pass-thru from the trunk looked long enough to take nap … I didn't measure the length, but it is substantial.
The controls are not quite as simple as the VWs models only a few years ago, but the instrumention is at least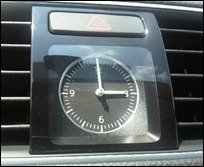 located exactly where you would want them. I had a difficult time while in fiddling with the odd operating powered side mirror joystick switches as well as the unusual sunroof knob, but assume they are instinctive for those under 40 and can be learned by a few of us over that age. I didn't experiment with the navigation screen, but one push of the map button quickly located my position. Although I like gadgets, I'm not sure the ones being put on many new cars are ones "I would pay to add" (does that mean I'm getting old?) One unusual addition to all of modern instruments was the analog clock which took a prominent center position on the dash … from the first look, it looked a little out of place?
The biggest attraction for those considering the 2012 VW Passat TDI is probably the fuel efficiency numbers: EPA estimates are for 43 highway mpg and 795 miles on a single tank of fuel (sticker on this TDI was 40 mpg highway and 30 mpg city). The other important number isn't quite as attractive – $33,185 … although really not all that high considering the level of luxury and other vehicles in its class, if there is another vehicle of this size getting 40+ mpg? (the base TDI Passat is just over $26,000).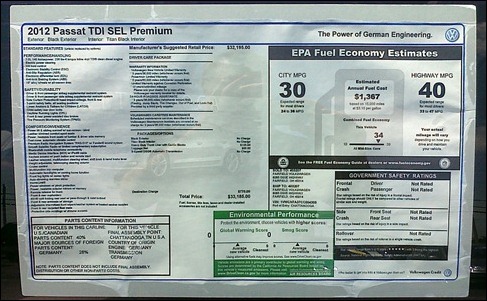 All in all the new American made Passat TDI should be a near perfect car for those who spend time on the long stretches of US interstates. The diesel engine has proven to be powerful and long lasting. Driving a Passat TDI sedan is a way to drive/ride in comfort while getting the same fuel efficiency most are lucky to get while babying a hybrid or compact car. I'm sure you'll see more VW TDIs in the coming years.