Posted By RichC on March 28, 2008

About a week ago, Sharpcast introduced SugarSync, their new automated Internet backup and synchronization service which allows computer users to backup directories online and also sync multiple devices. (ie. laptop, office computer, home computer) The convenience of keeping 10 plus gigabytes of data safely backed to a server and available on multiple computers 'might' be attractive to people on the go. Since there is a 45 day trial period and a 50% off 'Founders Circle' pricing for those who sign up before April 15th, I decided to give it a cross-platform try.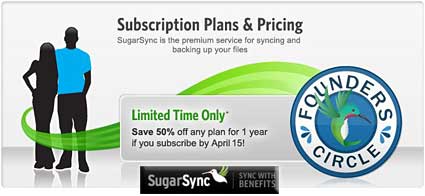 I'm not sure that even with a discount that I'm interested in paying for an online backup service as I can quickly FTP files to a server or better yet store on a low cost USB or Firewire harddrive. I've seen several online back up services, which offer 30 gigabytes or so for $10 a month, although the ease of backing up multiple computers and synchronizing the way Sugarsync does is pretty attractive. I wouldn't mind having at least 10 GB backed up automatically if it were free, but I'm not sure I want to spend $25 (discounted rate) for the first year and then $50/year after I get addicted?
But onward and upward with the trial. The signup with an email address and password was simple, the software downloaded in a snap on both my Vista notebook and desktop Mac, and even the installation went without a hitch … but that was where quickness stopped. Next was the backup and sync of my two computers, and I only selected 4 GB of data to start with. Can you say bog? The reality is that I would have been much wiser to do this initial sync while I was sleeping … it slowed the entire network and Internet connection down substantially. (my advice … do the initial backup at night)
Once backed up, the service works flawlessly. I can open any file on either computer and so as long as I allow the SugarSync software to run and update changed files. At this point I have started to question the security aspect of handing off my private files to an Internet backup service, but suspect I could be wooed into feeling they are safely stored? (who can really guarantee that?) It is pretty cool to watch a modified file change only a few seconds after I save it on one computer then show up on the other. As an added bonus, I'm also able to access with my Treo 700P smartphone with the Blazer browser … although working with the files isn't all that easy. (although I can pick a file from the back up location and have it emailed to whom ever I want!) The SugarSync site indicates that their service plays well with Windows mobile devices and Blackberries … I wouldn't know since my Treo is Palm OS.
All and all for a first look I'm impressed. Its not for everyone considering this could get costly and offer a security breach, but I'd have little hesitation in suggesting it to those considering any other online back up service. Be warned, backing up 250 GB this way will eventually run you about $500/year once the Founders Circle discount runs out.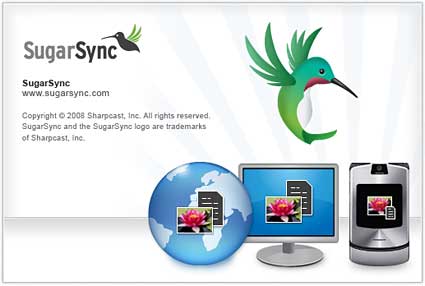 EDIT 4/2/2008: Received and email indicating the 'Founders Circle' pricing will be the 'list price.'
Dear SugarSync Customer,

Thank you for trying SugarSync. Since we've announced our pricing, many of you have spoken that you love the SugarSync experience. Over 27 million files have already been synced! But for some of you, the pricing is not affordable enough for you to enjoy it for all your files and media.

Well, we listened to your concerns and as of today, the Founders' Circle promotional pricing is now our everyday low price. You can subscribe to a SugarSync plan for as low as $2.49/month. There is no promotional period or fine print to worry about. For one low price, you can protect and enjoy your digital life wherever you are.

We hope this will convince you to subscribe and enjoy SugarSync for a long time.