Posted By RichC on June 12, 2017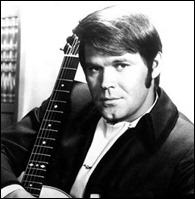 Music memories only go back so far for me … and likely only two musicians exist as favorites from my pre-teenage days (probably because my mom listened to the radio). One of the two artists is Glen Campbell, the other Roger Miller. One of the songs I remember is "Witchita Lineman," written by Jimmy Webb, although it was not the only hit made famous by Glen Campbell.
Glen Campbell's Twitter-handle followed me a couple weeks ago and likely triggered my memory. I suspect that it was noticed because of my 2014 post about Glen Campbell and Alzheimer's disease. Having dealt with parents flirting with dementia myself has me sympathetic to all families affected by anyone dealing with this disease.
Glen Campbell's long career keep me a fan through the 1970's and bridged the country-pop-rock division for many who enjoyed different musical styles. Besides being a super talented musician, he was an ideal host for music based variety show including his own Glen Campbell Goodtime Hour which ran from 1968 until 1972 and then again a decade later with 25 episodes called the Glen Campbell Music Show.


| | |
| --- | --- |
| | Wichita Lineman (vinyl record version) | Glen Campbell – 1968 |
EDIT (add): Twenty-plus more minutes with Glen Campbell in 1985 after receiving a comment by email from someone younger wondering about his ability as a LIVE performer and entertainer. No disrespect to many current musicians, but having the relaxed ability to host a live show others, connect with an audience and still perform his own music well is unique.
| | |
| --- | --- |
| | Glen Campbell in concert | 1985 |