Posted By RichC on October 17, 2008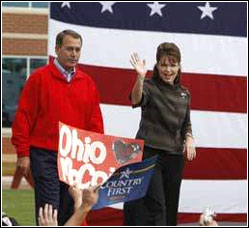 Although the polls and news are not positive for McCain/Palin in many parts of the country, in the area north of Cincinnati Ohio, they are a very popular pair. So when Gov. Sarah Palin stopped in West Chester Ohio across from the local Lakota West High School, she had a great crowd — about 15,000.
She arrive about noon and although I was only driving by on Union Centre Boulevard, I listened to her half-hour speech.  The crowd was decent from what I could see and many came out and spent the cool morning waiting in the square. According to news reports, the state of Ohio is a must win for McCain/Palin if they are to stand a chance to win against Sen. Obama and his running mate Sen. Biden. They have 18 days — not much time to convince the few undecided or convert a few moderate Democrats.
Palin focused on several recent Ohio oriented stories: "Joe the Plumber" and ACORN, the community organizing group that is being investigated for potential voter registration fraud (local lawsuit in Warren county).
Gov. Palin was introduced by our local representative, House Minority Leader John Boehner and he was quick to point out that the race was not over. "The media's been trying to say the race is over for weeks," said Boehner, whose congressional district includes West Chester. "I'm just going to say, I've been all around the country, helping my candidates and my colleagues around the country. We're in a tough fight, but I'm going to tell you what I told them: Never, ever give up."
Here's a partial clip of her speech today …
GOP VP Candidate Gov. Sarah Palin in West Chester, Ohio – 10/17/2008