Posted By RichC on December 23, 2008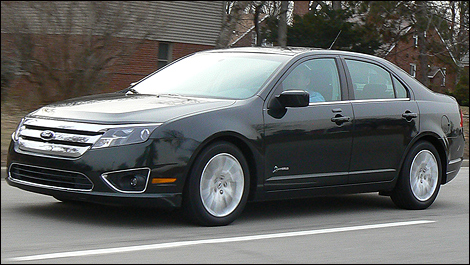 Although I'm pretty fond of the Volkswagen Jetta TDI clean-diesel when it comes to highly efficient, yet enjoyable to drive, transportation, Ford might have a winner if they can build and price the new Ford Fusion Hybrid attractively. Their new 2010 mid-sized vehicle is going to be the most fuel efficient mid-sized car sold in the U.S. receiving a 41 city, 36 highway EPA rating, although an LA Times reporter was getting 52 mpg during the auto show.  It would be great to see an American company produce attractive and efficient cars … how about a clean-diesel hybrid next?
Kicking Tires blog: "Ford has introduced a slew of new technology that allows the Fusion Hybrid to achieve those numbers, including a nickel-hydride battery that is smaller, lighter and produces 20% more energy. Improved regenerative braking technology manages 94% energy recovery as well.
Test drivers have reported different mileage numbers for the Fusion Hybrid, ranging from low 30s to low 50s. Largely, this fluctuation depends on the driving habits of whoever sits behind the wheel."