Posted By RichC on August 1, 2019


CinciTDI GTG at our house August 20, 2008 – Throwback Thursday #TBT
It has been a while since posting anything on Volkswagen or to the TDIClub forums; I'm likely I'm still sore over their "dieselgate" failure and the company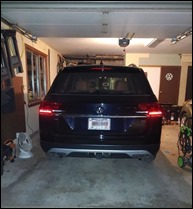 giving up on diesel cars in North America. Still, I'm drawn to VWs and their excellent combination of tight handling, performance, design and premium quality all at a "fair" price … and can see myself interested in a Volkswagen Atlas someday (my friend Tim Hunter just added one to his garage). 
Even though I have moved on from the Volkswagen family, my daughter returned, missing her VW TDI. It only took a short time of owning a Nissan Juke (she was very disappointed) and is now very happy with her Tiguan (2017 video below break). My son is also about ready to return to a Volkswagen and might be tempted to move even quicker in order to get in before the excellent 6-year/72,000-mile warranty is gone. Time will tell … but personally I'd rather have the long bumper-to-bumper warranty than the free factory-covered maintenance. 
VW's excellent 6-year/72,000 mile warranty is ending

A free maintenance plan is introduced in its place

The very good 6-year/72,000-mile bumper-to-bumper warranty for all new Volkswagens is coming to an end. Automotive News discovered the news, learning that a new warranty would be put in place for all Volkswagens for the 2020 model year. That new program brings the coverage down to a 4-year/50,000-mile bumper-to-bumper warranty, which is still a solid new car warranty in the U.S.

Along for the ride with the new warranty strategy are two years of free, factory-covered maintenance for all 2020 VW owners. That means you shouldn't have any out-of-pocket scheduled maintenance costs for the first two years of ownership. If you end up blowing a tire or bending a rim, though, expect to cough up some cash.