Posted By RichC on August 3, 2015
It was the weekend for visiting … both my dad who returned to Lane Park Assisted Living in Sidney, Ohio and my wife Brenda who is recovering from her fall from a ladder (previous posts: One, Two and Three with more below). Thanks to my brother Ron, decisions for my dad was something I didn't really have to worry about this past week. Fortunately Ron and his wife Claire were able to tag-team visits to the hospital and coordinate talking with the doctors about getting dad stabilized "once again" before their trip to Wisconsin. It is not fun getting old … for my dad or his family.
After Brenda's surgery on Friday afternoon and some recovery on Saturday, I headed up to Sidney on Sunday to visit with my dad and see how he is doing. Not too bad since his meds have been "rebalanced" and IF it can be monitored closely. The new activities director had a "Guy's Night Out" which if my dad remembers it correctly, was fun. Unfortunately the dementia has him drifting to and fro and words will trigger a jump that includes something that happens way in the past and he'll include that as if it happened yesterday. Memory, dementia and Alzheimer's are frightening components of getting older. I only hope medical science can make some advancement before the huge population of baby boomers has to deal with it en masse. 
On to Brenda – (medical incision photo below, so click 'more' at your own peril):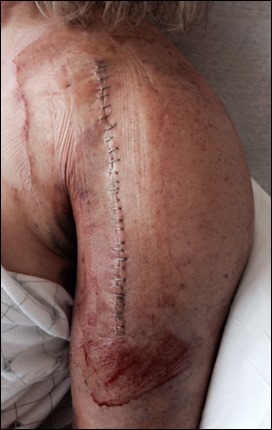 After the surgery on Friday and some recovery on Saturday, Brenda was anxious to see just how much pain she could tolerate and is already working to get on her feet (or foot … since she is only permitted to put wait on her right leg). She has been amazing so far "knowing" the kind of pain that awaits her. But, the only way to rehab is to learn to fight through the pain and slowly move off the injectable "break-through" pain meds. So far she is ahead of schedule and can usually get from the bed to a bedside commode. She requests a few favorites … so her sister Chris brought her Diet Pepsi and I've been keeping her supplied with animal crackers, garlic breadsticks, UDF Milkshakes, Donatos sub and even tried Chipole's chicken and rice bowl (she sent that home with me – and it did not go to waste).



As you can see, the surgeon came in and changed the bandage on her arm … quite the battle incision! The swelling so far is being managed, but last night we did notice some additional swelling in her arm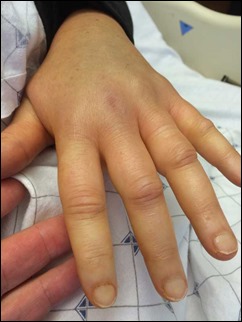 and hand. Hopefully the resident team will look at that today and venture an opinion. Maybe the new bandage which now wraps is too tight … but I'm sure they'll look at the veins or possibility of clotting too. After surgery this is always a concern.
For my part, I'm holding down the house and starting to think about what it is going to take to have her here at home. I know she will be in a wheel chair for about six weeks and most likely needing a long stretch of rehabilitation and therapy for her arm after that. Believe it or not, Brenda is anxious to begin that part thinking it might include water therapy and swimming. She'll use any excuse to get in the pool!



While I was in Sidney, I also took apart the ramp my brother and I put in for mom when she was in her wheel chair. It needed to be done before we can clean up and sell dad's house and thought this was a perfect excuse to take it apart and use the pieces to put one in our garage. When we designed our Georgian Colonial home, we loved that we raised it a couple steps above the grade … now I rethinking that decision. Hmm … might be nice to be less of an incline??? Currently we are contemplating a week or so of in-patient rehab before moving her home … but IF she continues to progress, I will need to have the house ready so I'm shuffling around and measuring things out.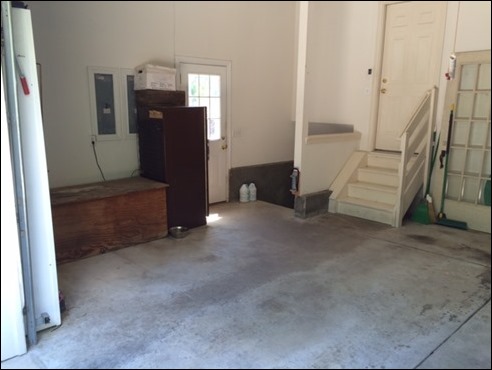 Thanks to all who are praying and sending well wishes … very appreciated.