Posted By RichC on August 3, 2011

I've recently made a switch to a new search engine after reading Google's Terms of Service Agreement a little more closely. The wording of the TOS along with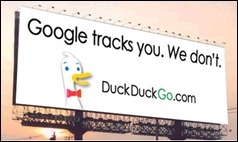 my security conscious friend's regular reminders regarding web privacy and information security triggered a search for a better search engine.
DuckDuckGo.com offers a free, lean webpage search along with convenient extensions for both browsers that I regularly use … Chrome and Firefox. After a week of using the new search engine, it is very good. I appreciate the fact that it doesn't track and profile my search results to interested parties – link. (check out the illustrated to better understand why this is important)
If this kind of change is of interest to you, you might want to check out these other privacy tools … although I did find adding the TorProject really slows an Internet response time down. (see donttrack.us)

Abine
Privacy suite.
---
Adblock Plus
Blocks ads.
---
AdBlock
Blocks ads.
---
AdSweep
Blocks ads.
---
Beef Taco
No ad network tracking.
---
Disconnect
No tracking from major sites.
---
Ghostery
No third-party tracking.
---
BetterPrivacy
No tracking from Flash.
---
NoScript
Blocks JavaScript.
---
NotScripts
Blocks JavaScript.
---
HTTPS Everywhere
No tracking.
---
Tor
No tracking by being anonymous.