Posted By RichC on February 5, 2009
Last year, General Motors announced that it would build a $370 million engine plant in Flint Michigan to supply the 1.4L engines for the 2011 Chevrolet Volt and Cruze;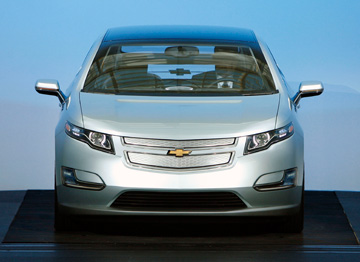 autoworkers in the depressed southeastern part of Michigan thought this was good news with so many jobs were leaving the area. In October, GM started the 552,000 sq. ft. facility just as the economy headed deeper into recession.  With financial woes of its own, the largest domestic automaker decided to postpone the construction project. Rumors spread that the 'halo' car would now see these small engines built overseas.
Confirmation of this rumor came at the end of January as GM announced they would product the  engine for the Volt and Cruze at their existing 'overseas' Aspern, Austria plant, which currently builds the 1.4L engine. These engines will then be shipped to Hamtramck, Michigan plant for final assembly of the Volt, and to the Lordstown, Ohio plant for the compact Cruze.  There is some concern that  the goal of staying under $40,000 for the Volt might not be obtainable?  A spokesperson for GM says Flint Michigan still remains "the target for North American sourcing of the 1.4L engine, and GM's plan always has been to initially bring the engine over from Aspern, where it already is built."
So much for a true domestic alternative. If someone is looking for an American made "green" car I wonder if the Chevy Volt or Cruze will be as misleading at the American sounding  Jeep Patriot?