Posted By RichC on May 7, 2009

The Microsoft Windows 7 Release Candidate (RC) came out on Tuesday this week and although I'm in no hurry to switch from the Beta (see my original install post), I did find some of the information disconcerting.  First, the August 1st expiration date on my current beta build has been confirmed. You can also check it out by going to the command prompt and under an elevated status log-in and enter 'slmgr -dlv' — this will give you the true expiration date.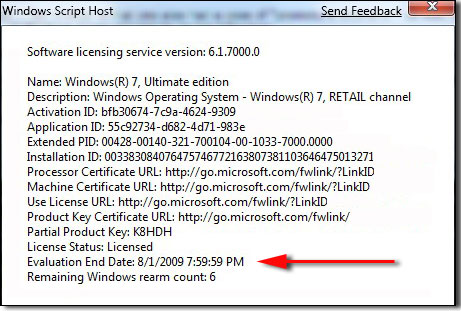 Second, installing the new Windows 7 RC may be a bit of a headache depending on your approach.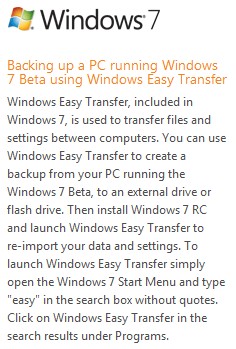 The easy way would be to back up all your data using the Windows 7 "Easy Transfer" software and an external hard disk. This provides for a clean install of the RC release dumping the beta bits and pieces. Another option might be to downgrade to Vista, but as I mentioned in my last post about Windows 7 Beta, it ain't going to happen since I'm not a Vista lover. Perhaps I'll work on the RC install over the weekend since the 32-bit download is a 2.36 GB iso file!
😡
Here's what you need to know:
This is pre-release software, so please read the following to get an idea of the risks and key things you need to know before you try the RC.
You don't need to rush to get Windows 7 RC. The RC release will be available at least through June 2009 and we're not limiting the number of product keys, so you have plenty of time.
Watch the calendar. The RC will expire on June 1, 2010. Starting on March 1, 2010, your PC will begin shutting down every two hours. Windows will notify you two weeks before the bi-hourly shutdowns start. To avoid interruption, you'll need to install a non-expired version of Windows before March 1, 2010. You'll also need to install the programs and data that you want to use. (Learn more about installing Windows).
Protect your PC and data. Be sure to back up your data and please don't test Windows 7 RC on your primary home or business PC.
Technical details/updates: Before installing the RC please read the Release Notes, and Things to Know for important information about the release.
Keep up with the news. You can keep up with general technical information and news by following the Springboard Series blog or Windows team blog. Want technical guidance, tips, and tools? Visit the Springboard Series on TechNet.
Keep your PC updated: Be sure turn on automatic updates in Windows Update in case we publish updates for the RC.
Microsoft Partners: Learn more about Windows 7 on the Microsoft Partner Portal.
Here's what you need to have:
Internet access (to download Windows 7 RC and get updates)
A PC with these minimum recommended specifications:
– 1 GHz 32-bit or 64-bit processor or higher
– 1 GB of system memory or more
– 16 GB of available disk space
– Support for DirectX 9 graphics with 128 MB memory (to enable the Aero theme)
– DVD-R/W Drive
Please note these specifications could change. And, some product features of Windows 7, such as the ability to watch and record live TV or navigation through the use of "touch," may require advanced or additional hardware.
Get the download
The 32- and 64-bit versions of Windows 7 RC are available in five languages: English, German, Japanese, French, and Spanish. (Note: The RC version will not be available in Hindi or Arabic.) Just choose the version that fits the system you'll be using and pick your language to register for and download the RC.
Downloading the Windows 7 RC could take a few hours. The exact time will depend on your provider, bandwidth, and traffic. The good news is that once you start the download, you won't have to answer any more questions – you can walk away while it finishes. If your download gets interrupted, it will restart where it left off. See this FAQ for details.