Posted By RichC on September 9, 2009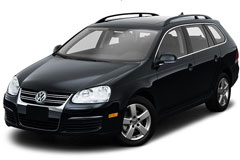 Inventories for diesel vehicles in the U.S. are near 'zero' — it's a frustrating time for a guy who has been waiting for his next  Volkswagen TDI … or BMW diesel. Thankfully I can wait and am not in absolute need of a new car, but having to pay MSRP and above, "IF" one can find the model vehicle they want, isn't and attractive way to buy a new car. I was talking with a dealer friend of mine and their VW TDI inventory and car due in were quickly gobbled up during the "Cash for Clunkers" program.
"About 70% of the cash-for-clunkers sales done at VW dealerships were for diesel models …" (WSJ)
Even before the program, Volkswagen clean diesel sales were strong … in fact, the June sales numbers for the popular VW Jetta TDI Sportwagen saw 81% of their vehicles being sold with the diesel engine.  According to Volkswagen spokesman Steve Keyes, Volkswagen is not only wanting to import more diesel Jettas, they are "considering offering only the TDI diesel Jetta wagon—dropping the gasoline model."
.