Posted By RichC on September 27, 2009
The second part of the this post's subject line makes very little sense unless you've been paying attention to the weather in much of Ohio in recent days.
We've had so much dampness and rain that we might as well be living in Seattle … evidence by my daughter's cellphone at the OSU/Illinois game on Saturday — her Palm Centro is currently DOA but 'drying out' with limited hope for resuscitation.
On the other hand, the game was well suited for the rain seeing the Buckeyes run up 30 points to the Illini's 0, making it the second shutout in a row after losing to USC two weeks ago (win over Toledo last week). Illinois quarterback Juice Williams was quoted as describing his team's offense as a "nightmare." That said, the rain didn't help build confidence in Ohio State's passing game, as they instead moved the ball on the ground running 236 yards on 46 carries, a 5.1-yard average.
For Buckeye fans there is still concern over passing the football, but it's a definite good to see opponents will need to defend against the run. Without question, credit must go to a solid defensive which gave no mercy to the Illini and shut down any passing game that was in the playbook. If you're a fan of the scarlet and gray — a true Buckeye — then you're at least glad to see wins and scoring.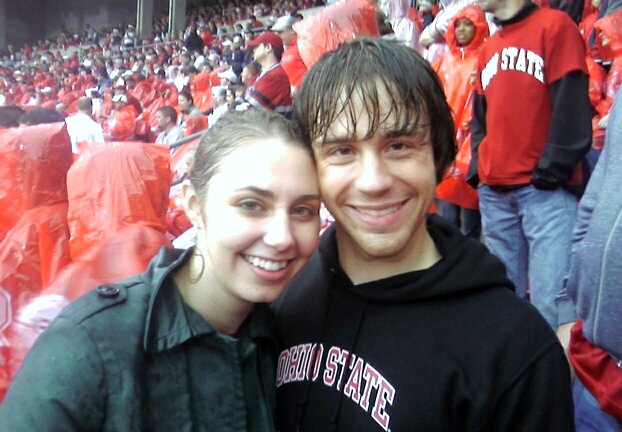 Katelyn and Drew enjoy the win amidst the rain
–