Posted By RichC on December 13, 2009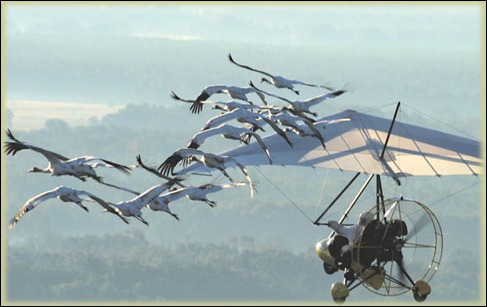 A couple areas of interest to me merge one state over in Indiana. In an effort to help the endangered whooping cranes migrate safely from Wisconsin to their wintering grounds in Florida, Operation Migration had two disappointing moments this past week. In Vermillion County, Indiana, a staff member for the International Crane Foundation (ICF) found the carcass from the first crane to be successfully hatched in the wild in one hundred years near the town of Cayuga – it had been shot. The U.S. Fish and Wildlife Service (FWS) and the Indiana Department of Natural Resources (I-DNR) are investigating the shooting.
"To kill and abandon one of 500 remaining members of species shows a lack of reverence for life and an absence of simple common sense," said John Christian, FWS Assistant Regional Director for Migratory Birds. "It is inconceivable that someone would have such little regard for conservation."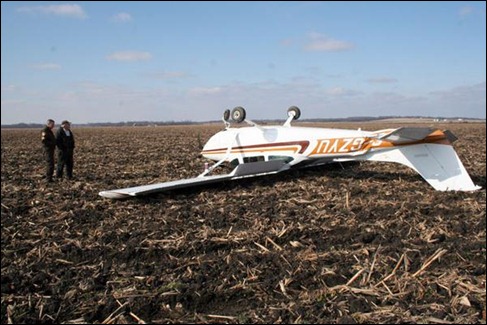 Operation Migration continued to proceeded south with their ultralight  and "top cover" Cessna 182 piloted by Don and Paula Lunsbury. Unfortunately the airplance experienced engine trouble over Illinois on December 4th and landed in a plowed field in southern Illinois. According to an aviation reporter, the freshly tilled ground was soft and caused the nose gear to dig-in flipping the C-182.  The two pilots from Canada were uninjured and the accident is still under investigation by the NTSB. No final report as to the cause has been release by the FAA.
According to another post on the subject, "this year's assisted migration has been full of adversity as weather caused several long layovers" as the ultralight also had to make an emergency landing due to engine problems. Another unfortunate incident occurred prior to leaving as their aircraft and parts were vandalized.
According to an EAA article, "the remaining 18 cranes are, as of this writing, waiting out weather in Hardin County, Tennessee just north of the Mississippi-Alabama border. More information about how to support the migration including a fund to replace the aircraft damaged in the Wisonsin break-in can be found here.
The U.S. Fish and Wildlife Service is offering a minimum reward of $2,500 to the person or people who provide information leading to a conviction. Anyone with information should call the Indiana Department of Natural Resources 24-hour hotline at: 1-800 TIP IDNR (800-847-4367), or the U.S. Fish & Wildlife Service at 317-346-7016. Callers can remain anonymous."