Posted By RichC on May 31, 2010
Just returning from a trip to Washington DC with Veterans and a visit to Arlington National Cemetery, remembering those who have died in service to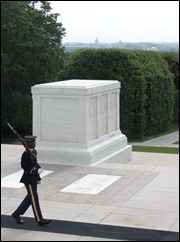 our nation is fresh on my mind this Memorial Day. The visit was not only moving because of the hallowed grounds, but because I was privileged to be there with WW II and Korean veterans.
One of the trivial political discussions that arises on such a National Holiday is where our President will visit. Generally they have a service at a National Cemetery, which is usually Arlington. This year President Obama will be at Abraham Lincoln Memorial Cemetery in Elwood, Illinois … a decision that some thought was questionable.
Do you know how many national cemeteries are in the U.S.? 131 plus 33 additional sites that are managed by the Department of Veteran Affairs. If you can't visit a cemetery, perhaps observe in the tradition of flying the U.S. Flag at half staff until noon this Memorial Day.
EDIT: Should have included this link from 2008 … excellent video on Arlington National Cemetery.
For my aviation and Warbird friends, there will be a P51 fly over at Ft Snelling National Cemetery.