Posted By RichC on May 24, 2010

Veterans from Shelby County Ohio at the World War II Memorial Saturday, May 22, 2010
I intended to blog this past weekend (May 21-23) while volunteering with the WWII and Korea veterans honor trip to Washington DC …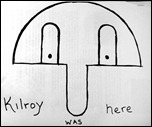 but my hands were full from dawn until dusk … and then some! That's not to say that this group of men from Shelby County Ohio were a troublesome handful or helpless, but is an indication that we were all busy nearly every minute of the day.
While on the bus, we made rest stops about every two hours (one for a mechanical issue) and organizers filled the drive with activities including a variety of games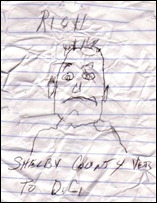 with prizes and multiple "mail calls" for the vets. Besides lining the Sidney Ohio roadway while departing on Friday morning (very humbling to all the vets I might add), the school children, supportive residents and families from the area wrote letters to each veteran … nearly 2000 letters in all. (WOW!)  The support also included fundraising efforts which paid for each of the 48 veterans being sent to Washington DC … the community sure knows how to support their own.
(I was missing a nametag, so was presented with my "badge" that I proudly wore during the trip … there was no mistaking me. – image left. Also the "Kilroy was here" paper was tucked under the hotel room door with a "riveting" account of the history [PDF])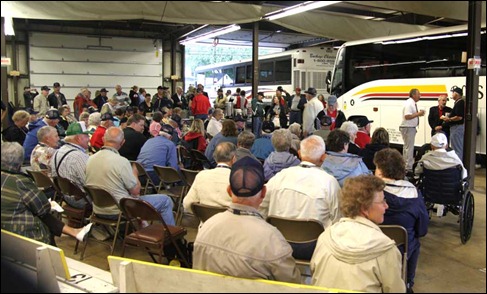 The heroes from Shelby County Ohio being honored had a near perfect trip, in my opinion. They were deeply humbled by the greetings from visitors young and old as they visited the memorials dedicated in their honor. One of the veterans commented that before the trip that he was pessimistic about America's future referencing younger generations, but after young and old alike thank him for his service everywhere he went, he said he realized that he was premature in assessing their heart. Not once did we encounter anyone who was less than respectful … and there were too many account of appreciation too count. It certainly gave me a more positive feeling about the future of our country.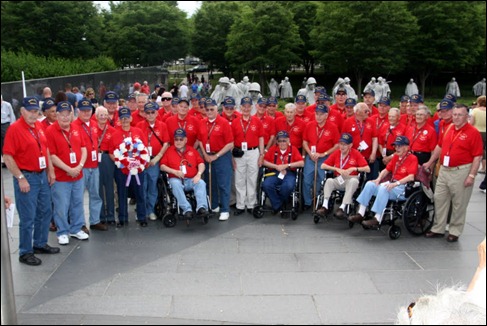 Veterans of Korea at the memorial for them.
Besides visiting the WWII, Korea and Vietnam memorials, we also spent time at Arlington National cemetery, the "Iwo Jima" Marine Corp memorial and new Pentagon Memorial. where I was able to help the wife of one of the veterans look up the "bench" of a family member who was killed – LTC Karen Wagner.
The trip was special for me because I not only had the opportunity to assist 48 veterans,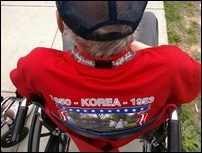 but also had the privilege to be with my dad (and my brother Ron). My father served in Korea as an Army M4a3 Sherman Tank commander and his 1st Sergeant rank became a comedy of purposeful mispeaks during each "mail call." I suspect there were many with not so fond memories of their days in the service.
All in all the group was amazing. I only wish I would have taped the men with their a cappella singing of "God Bless America" on our return trip. There are two sets of Picasa photo slideshows, one larger one from my Canon DSLR included below the field of 19 bronze infantryman at the Korea Memorial photo (when reflected in the wall there are 38 – for the 38 parallel as well as what some say was the 38 month duration) and the other from my Palm Pre.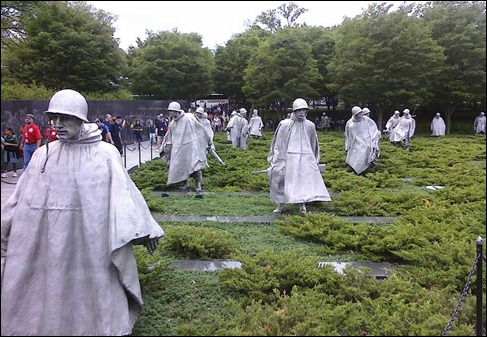 LINK to 200+ shared Google Photo Album from trip