Posted By RichC on April 29, 2015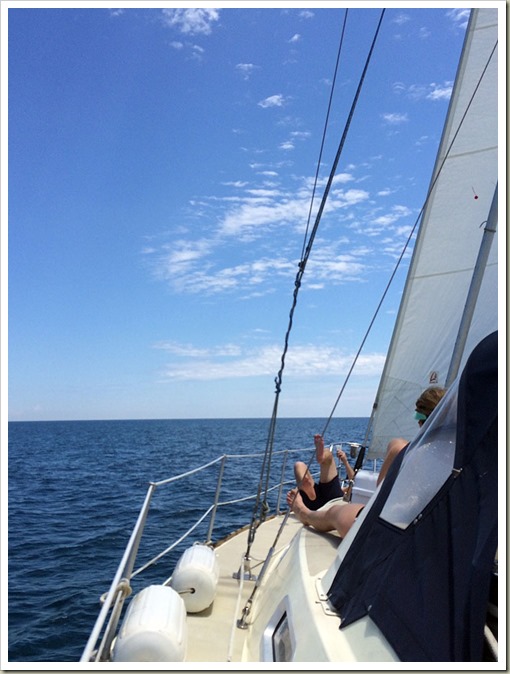 While enjoying some time day-sailing aboard Encore this past week, I squeezed in a couple of repair projects. First I replace the plywood shelf in our lazerette with a new 2×2 X-braced shelf. I really wanted to add a couple coats of paint to protect it from moisture and dripping water, but a single sprayed on coat will have to do.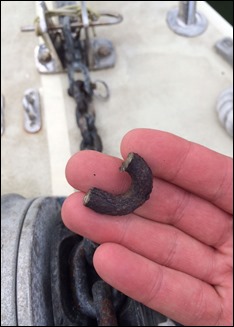 The three Lewmar Ocean Series hatches continue to drip even after last months attempt to fix with some windshield repair silicone. I still might try Captain Tolley Creeping Crack Cure or attempt a rebed on my own as recommend on the Liveaboard Sailboat Facebook Group using GE SG4000, Dow 795 or Sika Flex 295 with primer. If I'm not quite that ambitious, I'll probably take them off one by one and send them to Hatchmasters in Norwalk CT. ($$$)
Another smaller project was to remove about 4 feet of anchor chain at a single rusted link (photo left). For some reason, this single link rusted significantly, but I'm unsure why? Perhaps it was touching a dissimilar metal and corroded or may have been hanging as sitting where saltwater rusted this single link? Anyway I used a small hand grinder with a cut off wheel to cut the link in two place … with my eyes closed (forgot to bring along safety glasses).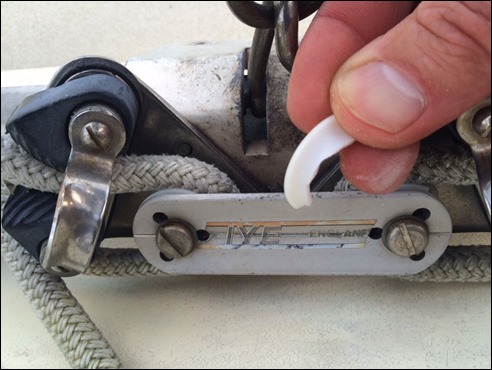 While out sailing we also had another issue as the Delrin wheels on the IYE Traveller cracked and will need to be replaced if I can find them. (out of production and in the UK of course) I'm beginning the search for repair parts.
Wheel Replacement Kit for Old-Style 4-Wheel Car:
IYE 32C-X44:
Wheel Replacement Kit for IYE Old-Style 1 1/4" 4-wheel Traveller Cars includes 4 Delrin Wheels, and special plastic lock-washers to mount them. Machined Delrin Wheels are 1 1/8" OD x 3/8" ID x 13/32" (.395") wide with Hub to .445" wide.