Posted By RichC on July 27, 2010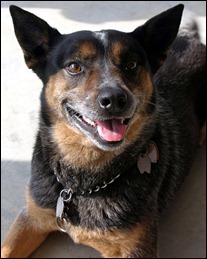 Although the article is from last year, my son noticed that our Australian Cattle Dog / Blue Heeler made the top 12 mens' dogs list in Men's Journal magazine (Below – Sept 4, 2009 p.56). There is certainly some accuracy to the characteristics, although I'm not sure how well our dog would do on a sailboat – Tootsie has feared water ever since she fell through the ice as a pup.
Still for 13 years old, I don't think one could find a more energetic beast. If I'm not careful when running her around the yard, I'm convinced she would injury herself before slowing down. As for 'nipping' … they don't call them "heelers" for nothing … but it would be nice if ours knew the difference between livestock heels, tractor tires and little kids who love to run around in bare feet! Potential owners be warned … it's not easy to train out such an instinct.
In the comments below, I particularly liked the "fell off a sailboat and survived four months eating baby goats." I could see that happening.