Posted By RichC on July 27, 2011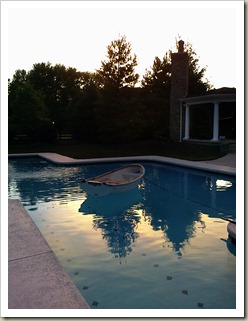 After an evening mowing the backyard grass on Tuesday night, a cooling dip in the pool was in order. The 90 degree water was a bit warm, but still felt refreshing.
Besides cooling off, I "launched" (chuckle, chuckle) our hard dinghy we call Trinka and "moored" it in the pool. It is out of place, but looked attractive enough as the sun set to take a cellphone photo (left).
I'd say we were enjoying the summer, but frankly with my wife working a few extra hours, my daughter hard at work as a first year resident intern (very few days off) and my son taking summer classes and working his summer job at a golf course … we really don't have much free time. Perhaps we'll get a chance to do something this fall … or escape to do a little more sailing next winter?