Posted By RichC on July 24, 2021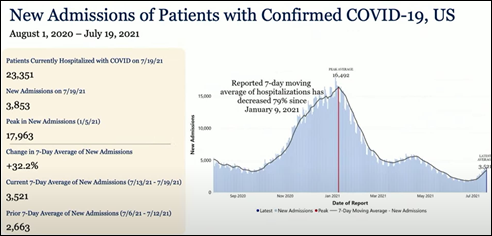 If it were not for the questionable messaging being pushed by every politician, biased partisan media personality (both left and right), so called medical experts and even our own wishy-washy Center for Disease Control and Prevention (CDC), it would be easier to decipher if this Delta Covid-19 variant is something to worry about or just another power grab, especially for the vaccinated, already Coronavirus recovered and younger healthy people? With all the money we send to Washington DC, it is frustrating not to have more confidence in their leadership and advice … no thanks to lack of confidence Americans have in President Biden, VP Harris … or the mixed messaged "expert himself," Dr. Anthony Fauci. (rolling my eyes)
The variant is highly contagious, largely because people infected with the delta strain can carry up to 1,000 times more virus in their nasal passages than those infected with the original strain, according to new data.

"The delta variant is more aggressive and much more transmissible than previously circulating strains," CDC Director Dr. Rochelle Walensky told reporters at a briefing Thursday. "It is one of the most infectious respiratory viruses we know of, and that I have seen in my 20 year career."

..

In hospitals around the country, 97% of people admitted with Covid symptoms are unvaccinated, and 99.5% of al Covid deaths are also among the unvaccinated.

"We are at yet another pivotal moment in this pandemic, with cases rising again and some hospitals reaching their capacity in some areas, we need to come together as one nation," Walensky said.
No wonder I'm convinced we'd be better off with smaller government.