Posted By RichC on July 24, 2020
As a start up, doing business with big company in order to boost sales and visibility can be a great way to grow a business. Unfortunately it can also be cut-throat and the smaller companies can and are taken advantage of. It is not new, but but in the fast-paced and highly competitive technology world, it can happen fast and the hammer can come down heavy. This is particularly true in working with behemoth companies who have investment arms, legal teams, new product development divisions and a platform to sell .. it is risky (not only companies, but countries do it too – aka: China). So if you are a start up looking for some investment capital or an only platform to sell on … be careful when it come to Amazon.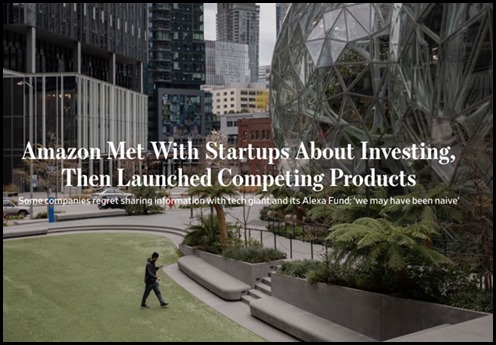 As Wall Street Journal writers Dana Mattioli and Cara Lombardo point out, "Amazon sometimes will launch a competing product which devastates the business in which it invested. In other cases, it met with startups about potential takeovers, sought to understand how their technology works, then declined to invest and later introduced similar Amazon-branded products, according to some of the entrepreneurs and investors."
Comments from one venture-capital partner about Amazon:
"They are using market forces in a really Machiavellian way," said Jeremy Levine, a partner at venture-capital firm Bessemer Venture Partners. "It's like they are not in any way, shape or form the proverbial wolf in sheep's clothing. They are a wolf in wolf's clothing."
Amazon's clout can and does often make it difficult for small companies to market their innovative products. The article detailed several examples where startup companies felt they were taken advantage of … whether it was Amazon using its venture-capital fund to invest in small companies to access a company's finances and confidential information or just using its selling clout as a way to request companies hand over data being collected by smart home connected devices when they integrate with Amazon's Echo (Alexa). 
Vivint Smart Home Inc., a maker of doorbell cameras, garage-door openers and other connected-home devices, was one of the first smart-home companies to integrate with Amazon's Echo devices. In 2017, Amazon was launching an update to its Echo speakers. It told Vivint that it would only allow the company to remain on the Echo if Vivint agreed to give it not only the data from its Vivint function on Echo, but from every Vivint device in those customers' homes at all times, according to people familiar with the matter and emails reviewed by the Journal.

—

Dealing with Amazon is often a double-edged sword for entrepreneurs. Amazon's size and presence in many industries, including cloud-computing, electronic devices and logistics, can make it beneficial to work with. But revealing too much information could expose companies to competitive risks.