Posted By RichC on July 28, 2010

Safety is always of concern for organizers of airshows, especially ones that attract 1000s of pilots, aviation enthusiasts and airplanes. The week long EAA airshow and fly-in at Oshkosh Wisconsin called Airventure is no exception — accidents can and do sometimes (rarely) happen.
The routine at Airventure is for Wittman Regional Airport to open runways after the days scheduled events for a short time to allow aircraft to arrive and depart. This was the case on Tuesday night as well when NASCAR owner and pilot Jack Roush and his passenger Brenda Strickland began their final approach. At 6:15 PM, Roush a long time pilot and EAA advocate, attempted to land in his Hawker Beechcraft twin engine business jet, when according to observers, "attempted a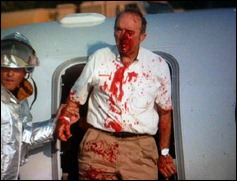 go-around with too little airspeed." The plane lost lift about 150 feet above the runway, according to one spectator and made a "hard landing" (crashed), causing significant damage to the airplane. Both pilot and passenger were able to leave the plane under their own power when on field rescue personnel arrived, but Mr. Roush was said to have suffered a head injury. Roush was taken to Theda Clark Medical Center in Neenah, Wisconsin and is in "serious but stable condition." Ms. Strickland was reported to have non-life threatening injuries. The NTSB is leading the investigation into the accident.