Posted By RichC on August 20, 2010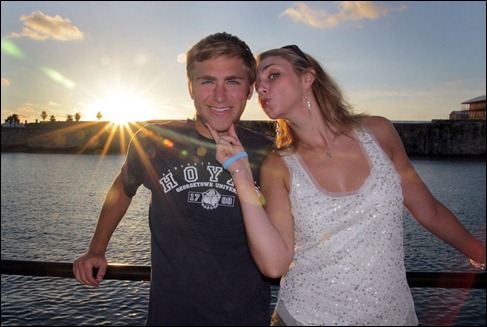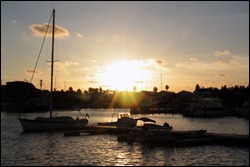 No we're not the next Tucker family (Teddy Tucker) of Bermuda and even though we were looking at one of the 200+ shipwrecks around the "Devil's Islands," we did not find gold.
Another day of water sports and fun in the sun, today was spent kayaking over the coral colonies, looking at fish and an 1891 hulk of the 'Old Ironsides' like ship of the HMS Navy called the Vixen.  According to what we've read, it was a heavy and slow warship designed and built by the British after the United State built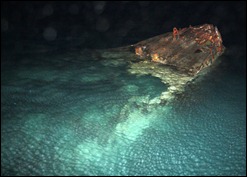 the Monitor and Merrimac. It ended up in Bermuda and was sunk purposely after spending it later years housing Irish laborers who were brought to the island an built much of Irish Point … the "dockyards" where the cruise ships now come in.
Besides swimming, ocean kayaking and "eating too much" … we enjoy the evening on a glass bottom boat that cruised into the Bermuda Triangle. The nighttime puttering around was fun both because of the underwater lighting of coral and shipwrecks, but the evening views of the homes along the way.
Real estate here is not exactly affordable …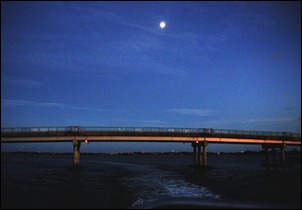 nor is anything you purchase at stores. We spent most of the day on the west end of the "islands" which are connected by bridges (the longest we passed under just after sunset with the moon rising in the east – photo left). Besides staying cool splashing in the ocean from kayaks, we yelled with excitement every time a green turtle was spotted. They were shy, perhaps due to their reputation as a source of food for Bermudians throughout much of its early history?
As for Thursday night … we all slept well … even with a cobra in our stateroom!