Posted By RichC on August 31, 2010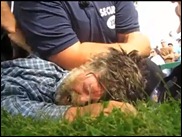 What would you do if you were security or police and asked to escort someone from the Alaska State Fair (private property) who was "loudly" exercising his constitutionally protected right to Freedom of Speech?
Some say security used excessive force … others express concern that the "provoked and angry Palmer Alaska resident, Sidney Hill was asking for trouble.
When security personnel discovered Hill had a handgun on him, "that's when the whole thing changed … All the supporters went away when they saw there was a gun."
PALMER — A 52-year-old Palmer man who was arrested while protesting at the Alaska State Fair has become a minor YouTube celebrity in the Valley.

Sidney Hill is familiar to local residents as the gentleman who spends most of his days on the corner of the Palmer-Wasilla and Glenn highways with his large "Impeach Obama" sign. When he brought that banner to the first day of the fair, he drew a crowd.