Posted By RichC on September 17, 2010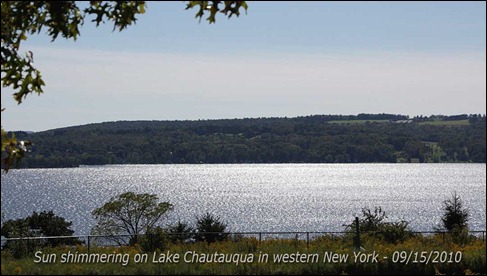 We are all getting older and inevitably our human bodies give way to age. Some are blessed with good health for 70 or 80 years, but eventually become dependent on others. Learning to adjust is not something most are quick to accept.
The days of our years are three score years and ten; and if by reason of strength they be fourscore years, yet is their strength labor and sorrow; for it is soon cut off, and we fly away.

— Psalm 90:10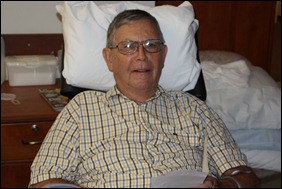 My father-in-law has been struggling with a couple health related issues over the past few years and now at 85 is struggling with some rehabilitation after a recent fall. Unfortunately his two hip replacements, a lower back pain and Parkinson's are  making his stay at the rehabilitation center challenging. The infection and pain, which put him in the hospital a few weeks ago, are now under better control thanks to pharmaceuticals, but the muscle weakness lingers and his strength is not returning all that quickly. A pain management doctor and physical therapist, along with the no-medical experts in our family, have him on a good regiment, but progress is slow. His attitude is positive, he is eating well and learning to adjust – adjusting is probably the hardest thing to do for someone with an independent personality. The goal at this point is for him to gain his strength back enough to walk … even if he needs help. Hopefully now that pain is tolerable we'll see improvement enough in a couple of week that he can move back home.
During my evening and morning visits  this past week, dad's spirit was good, his mind sharp and soul is ready for whatever tomorrow brings … I don't think I would be as congenial?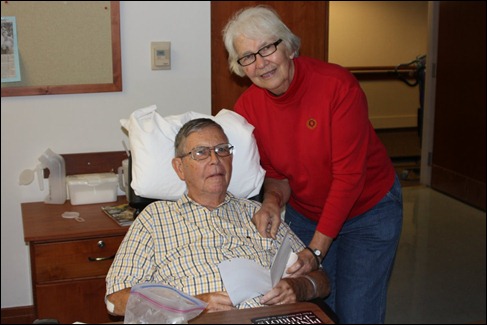 For me, I was glad to be able to travel to western New York while in NE Ohio for work. It feels good to be able to visit and help out a little around the farmhouse. I recall all they did for us in years past and know my visits are appreciate even if they are short. 
The odds and ends list' of chores may seem  trivial when people are dealing with health issues, yet having some sense of normalcy helps to keeps my mother-in-law calm (as she can be) and hopefully healthy. Years ago I remembered a series of messages on "What is your love language" … most in our family would recognized mom's as doing household chores.  So … I put a second coat of paint on some newly repaired trim outside on their back porch, sanded and painted the interior door frame of their new laundry room/bathroom and made a garbage run in the old truck (they take their garbage to the dump). Then we cleaned the barn, removed 4 dead mice from her old Mustang convertible (Mmm, smelled so good), moved the outdoor furniture in for winter and made room to park another car inside. While sweeping the dark corner, I also irritated a 'friend' just getting comfortable (below).
All in all it was a positive visit … and a lot better than the hospital.