Posted By RichC on December 22, 2010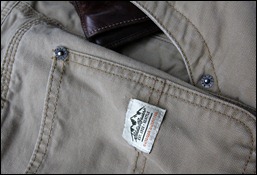 I had thought that I had found the near perfect pair of pants from Eddie Bauer for traveling and after buying a first pair in khaki color, opted for a second pair in olive. Besides being comfortable and having strong triple stitched seams, there are a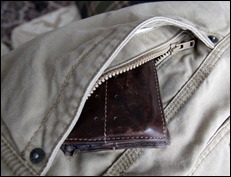 few design features that are worth pointing out. For traveling with a wallet, I've always been an advocate for keeping it in a front pocket. This pair of Eddie Bauer pants goes one better and has a dual front pocket on the right … one with a zipper which is idea for a wallet, although most likely designed for a cellphone?
The pants also added a great feature for those of us over the age of 40 or 50 who struggle with reading a book on a long flight in a dimly lit airplane. Nice … touch a pocket that fits the over the counter tube of reading glasses!
BUT … all is not perfect … especially after the TSA stepped up their security measures. Unfortunately for me, my favorite traveling pants come with metal  'rivets' which have triggered me for a full body "naked" scan and full pat-down the last two times through airport security. Bummer!