Posted By RichC on March 26, 2011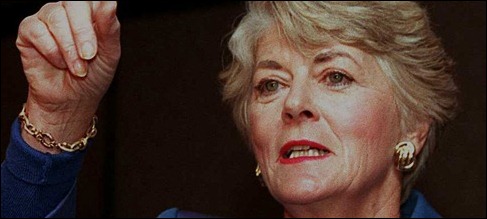 After 13 years battling blood cancer, the "political trailblazer" Geraldine Ferraro past away today at age 75. She was best known for breaking the glass ceiling in presidential politics after being selected as a vice presidential running mate in 1984 by Walter Mondale.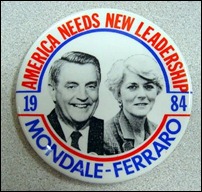 After losing to the incumbent, then President Ronald Reagan, she continued to remain in the public eye although her campaign for senate in 1992 ended in defeat. Many believe it was most likely due to the legal problems of her husband and son.
Ferraro is more recently remembered in offering her thoughts and commentary on Sarah Palin after she was chosen to be John McCain's running mate … many saw similarities to her being on the presidential ticket some 20+ years before.
Geraldine Ferraro also campaigned for Senator Hillary Clinton in her bid against then Senator Barrack Obama in 2008. She unfortunately created a controversy by bring up race; she suggested that "Senator Barack Obama achieved his status in the presidential race only because he is black." These poorly chosen remarks caused her to step down from her honorary post in the Clinton campaign. She later insisted that she meant no slight against Senator Obama.
President Obama commented today, "Geraldine will forever be remembered as a trailblazer who broke down barriers for women, and Americans of all backgrounds and walks of life," and said that his own two daughters would grow up in a more equal country because of what Ferraro had done.
Geraldine Ferraro August 26, 1935 – March 26, 2011